FROM OUR SISTER STORE IN YUMA! Great job!
We are happy and honored to be presenting a check today for $3999.86 to Kari Tartar and Arizona Childrens Association. They were our Round Up For Change receiver for April and May of this year! Thank you to all of our guests and team members who supported this amazing organization! #KabatsAceHardware #FortunaACEHardware #WeLoveOurCommunity #ArizonaChildrensAssociation #RoundUpForChange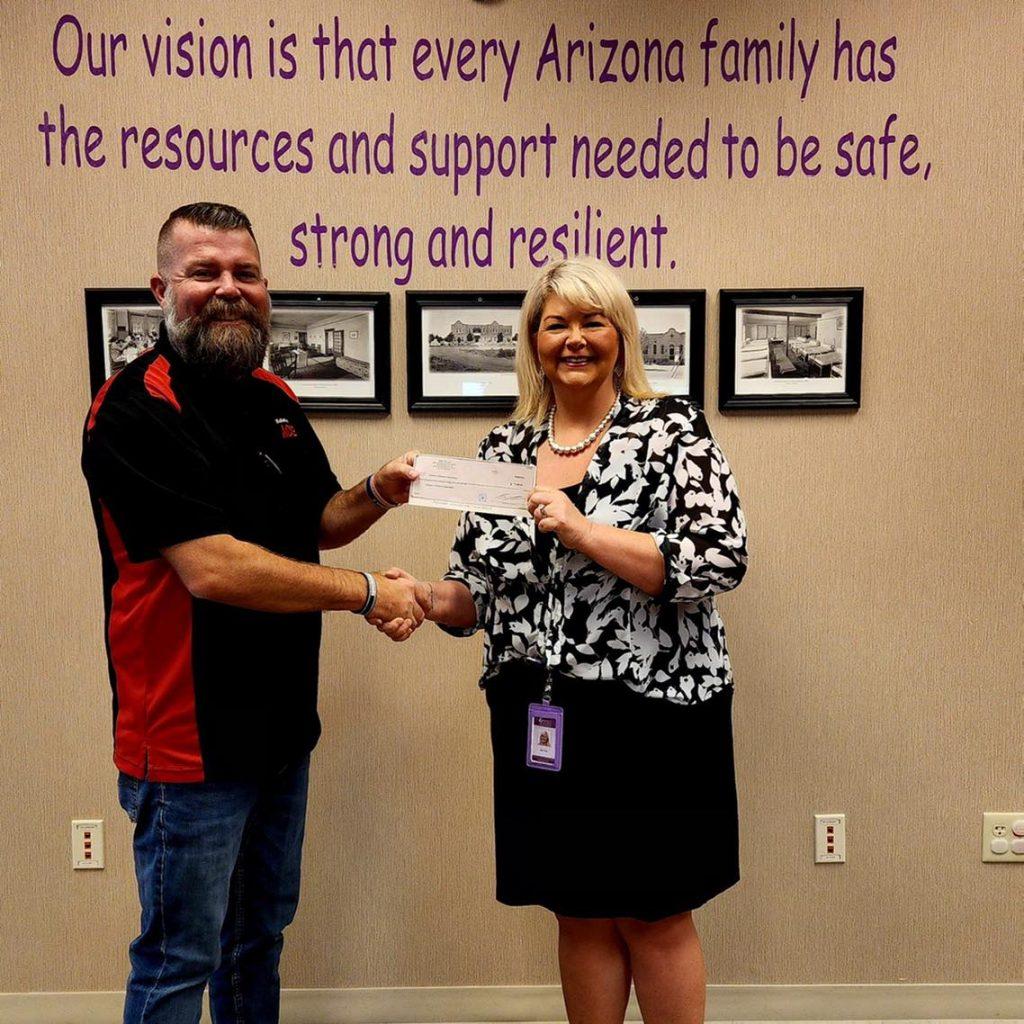 Kabat's Frontier Ace Hardware – (480) 983-9223 – Address: 725 Apache Trail #3B, Apache Junction, AZ 85120
Kabat's Crismon Ace Hardware – (480) 429-0199 – Address: 2758 S Crismon Rd, Mesa, AZ 85209
Kabat's San Tan Ace Hardware – (480) 500-6146 – Address: 40649 N Gantzel Rd, San Tan Valley, AZ 85140
Kabat's Handy's Ace Hardware – (480) 830-4000 – Address: 7125 E Main St #8227, Mesa, AZ 85207
Kabat's Fortuna Ace Hardware – (928) 376-6517 – Address: 11274 S Fortuna Rd, Yuma, AZ 85367
Click for other BLOG posts or our EVENTS posts
Our List of Organizations We Have Supported Over the Years
Ace Hardware Foundation
AJ Active Adult Center
AJ Chamber of Commerce Golf Tournament for Scholarships
AJ Little League
American Legion Riders
Apache Junction Band Parent Booster Club
Apache Junction Black & Gold Youth Football League
Apache Junction Christmas Festival
Apache Junction Food Bank
Apache Junction Paramedics
Apache Junction Police Department
Apache Junction Rock & Gem Club/ Scholarships for Skyline High School students
Apache Junction Wellness Partnership
Avalon Elementary School Gardening Club.
Boy Scouts of America
Boys and Girls Club of Apache Junction
CAAFA
Children Against Cancer
Children's Miracle Network
Community Alliance
Desert Vista Elementary / Native Garden Project
Eagle Scouts
EIGHT Arizona Public TV
Faith Christian School
Festival of the Superstitions
Friends of Apache Junction
Girl Scouts
Gold Canyon Lions Club
Gold Canyon Voices
Goldfield Ghost Riders
Habitat For Humanity
Hospice of the Valley
Imagine Prep Athletic Program
Jane Eck Memorial Golf Tournament benefiting Globe Meals on Wheels
Lost Dutchman Days
Lost Dutchman State Park
National Center for the Prevention of Community Violence
Panacea Animal Wellness Sanctuary of Arizona
Paralympics
Paws & Claws
Pinal County Sheriffs Department
Pinal-Gila Council's Senior Foundation P & M Arena
Queen Valley Fire Auxiliary
Queen Valley Women's Golf Association
Rotary Club of Superstition Mountain
SBOG
Skyline High School
St. George Student Scholarship Fund
Toys for Tots
Various Donations to Area Winter Visitor Activities
Veterans Day Parade
Veterans of Foreign Wars
VFW Post 9399