We are your Headquarters for solar screens, patio shades, and supplies!
We are your destination for Exterior Sunscreens!

Custom built or rescreens we've got it covered!

Bug Screen, Pet Screen, Sun Screen, Screen Doors

Don't want to measure? We do free estimates too!

Arches, Lattice, Sun Rooms, we can do it all!
Call today for a free quote!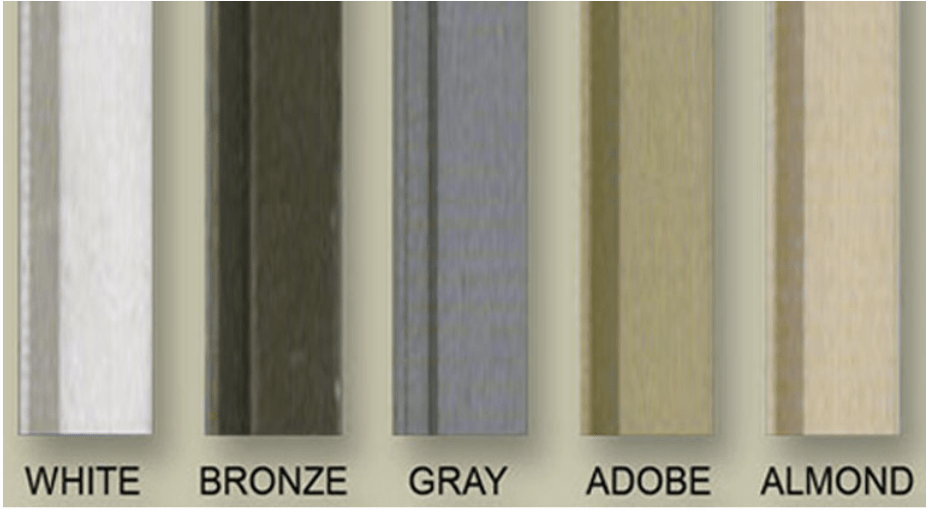 We use Textilene® Solar Screen, a fabric manufactured by Twitchell. It is designed to reduce heat transfer through windows by helping to eliminate many of the sun's harmful rays. Solar screen fabric not only reduces the heat, but plays an important role in glare reduction as well as daytime privacy.
Solar screens should never directly contact the surface of the glass which allows it to stop the heat before it reaches the glass. Textilene solar screen material is a woven PVC coated polyester yarn that is formulated to withstand solar abuse. Our sun screens are available in 80% blockage or 90% blockage depending on your needs. We build our sun screens with high quality frames of various colors to match closely with your window frame. 

The U.S. Dept. of Energy says that shading the outside exposed windows or doors is the best way to stop heat build up.
Our local electric utilities state that roughly 40% of heat build-up and heat loss is through windows and doors.
Exterior solar screens can block up to 90% of the sun's energy before it heats your windows, dramatically reducing the heat in your home and the load on your air conditioner. Plus, solar screens don't block the view and they let indirect light in to illuminate your home.
At Kabat's ACE Hardware, we feature Phifer Sun Control Products.
Including: Suntex 80 & 90  Filters 80-90% of sun's rays. Grey, Brown, Stucco, Black
Sunscreen 70: Budget priced. Silver Gray or Charcoal
Super Solar 90: Most Popular. Black
Bug Screen : Silver Gray or Charcoal
Pet Screen: Holds up well to pets and kids. Silver Gray or Charcoal
We have a wide offering of parts to make screens yourself, or ACE will build, deliver and install Solar Screens.
Free Estimates. Arches, dividers, and circles are no problem. We also offer drop down patio shades by Coolaroo. Available in various colors and pre-cut widths. Drop is set at 6 feet.
DIY or we'll do it for you!
We make it easy for you! 
ACE
, the helpful place.
The SRP Shade Screen Rebate Program
To qualify for the shade screen rebate, you must:
Be a permanent SRP residential electric customer that resides in a single-family detached, single family attached (up to four dwelling units), mobile home or apartment/condo (up to four dwelling units).
Purchase and install new or refurbished, qualifying shade screens with a licensed contractor by April 30, 2020.
Install shade screens that block at least 80% of the solar heat gain on sun-struck windows only (west-, south- and east-facing windows).
Install screens on the exterior of clear glass windows that enclose an air-conditioned space.
Download and complete the Shade Screen rebate application
SRP Shade Screen Program
2702 N. Third St., Suite 2020
Phoenix, AZ 85004
 Applications can be obtained by calling (602) 266-7283.
 Include a copy of the dated paid invoice.
Upon request by SRP, you must allow SRP or our agent to inspect the installed shade screens to verify compliance with program requirements.